Name: Ms. May
Mobile: +86-186-1558-3065 (whatsapp,wechat)
E-mail: sales@acrylicletter.com
E-mail: info@acrylicletter.com
Add: No 79-4,Yong An Street,Wendeng City,Shandong prinvince,China
Skype: mayacrylic




Product name : 300mm--2400mm width Acrylic Bending Machine

Item : FRAW300-2400
Details:

As there are many copycat product in market, please check the comparison report regarding our this machine compare with others as below:

http://www.acrylicletter.com/html_news/Large-Acrylic-Bending-machine-comparison-3.html

300mm/600mm/1200mm/1800mm/2400mm width Acrylic Bending machine
This bending kit is mainly used in over 300mm length acrylic sheet bending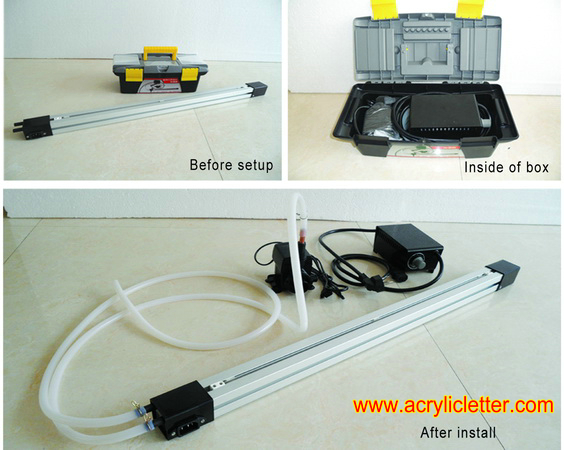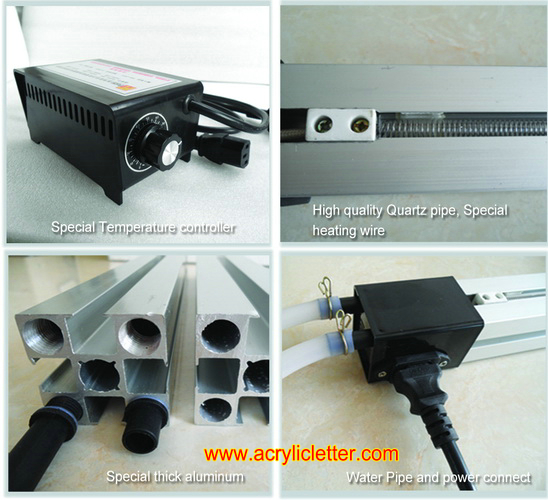 Size : 300mm 600mm 1200mm 1800mm 2400mm
Power:500W 800W 1000W 1500W 2100W
Main Parts: Mainbody 1Pc, Water pump 1pc, Temperature Controller1pc,silicon tube 2pc.

• The acrylic letter bending machine heater is the core part of letter bending machine. You can assemble various kinds of ideal practical
acrylic bender with this heater.
• It can bend all kinds of plastic sheet. If the thickness of acrylic sheet is beyond 6mm, you can use two heaters heat the top and bottom of the sheet at the same time, or you need to cut a slot on the sheet.
• You can also use many heaters to heat more bents at the same time.

Reasonable design, small size, compact structure and beautiful appearance.

Heat even and temperature adjustable.

With circulating cooling water system on both sides of heating pipe;

power supply joint and waterpipe joint are at the same end;


The body is made of special aluminum extrusions.

Portable, small occupation, low consumption and reliable operation;

Light and practical with low cost, value-priced;

Circulating cooling water system can make sure other parts (no heating is required) won't get thermal deformation.

Free plugging and unplugging, easy to storage and assembles to worktable very conveniently;

Straight appearance, the effective heating length is 610mm.
Low consumption, low cost

Can be assembled to a hot bending machine or used alone;

Save space, light and practical;


Can bend all kinds of plastic sheet.

Comparison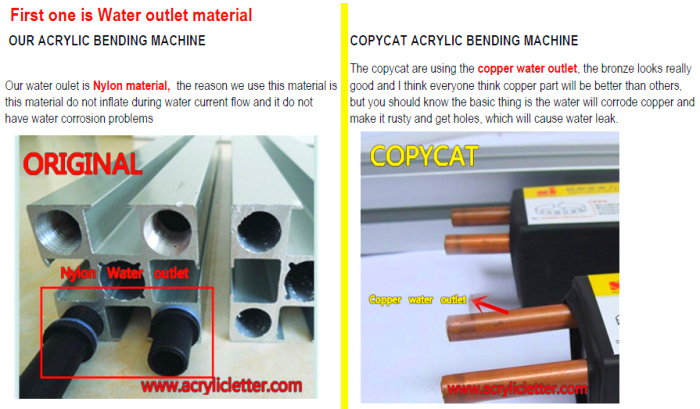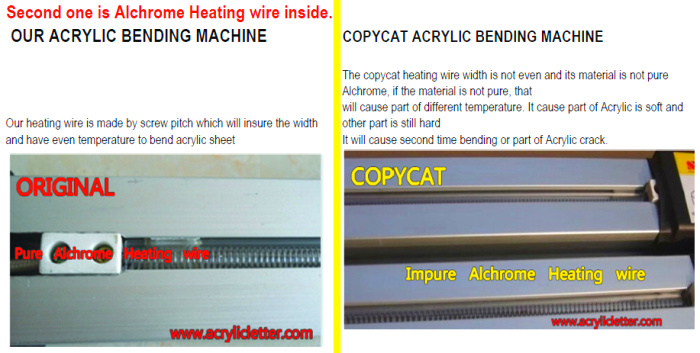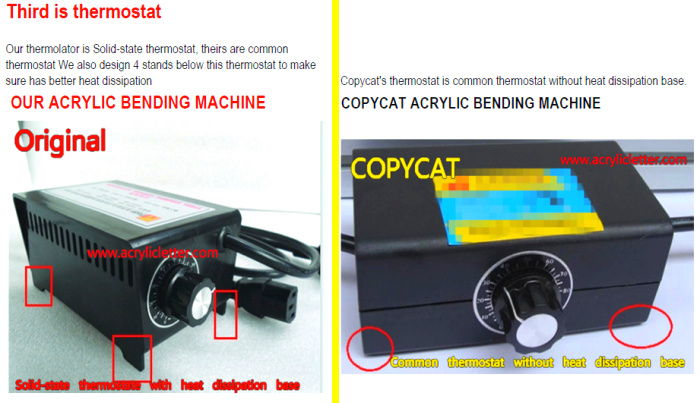 | | |
| --- | --- |
| Model | FRAW-300 |
| Maximum Bending Width | 310mm |
| Power | 500W |
| Power Supply | 220V |
| Heating Slot Width | 8mm |
| Heating Thickness | 1-6mm |
| Heater Size | 1.8" x 1.8" x 20.5"(45 x 45 x 520mm) |
| Heater packing size | 4.9'' x 4.9'' x 25.8"(125 x 125 x 655mm) |
| Box packing Size | 13.8'' x 7.9'' x 7.1''(350 x 200 x 180mm) |
| Gross Weight | 5kg |
| | |
| --- | --- |
| Model | FRAW-600 |
| Maximum Bending Width | 610mm |
| Power | 800W |
| Power Supply | 220V |
| Heating Slot Width | 8mm |
| Heating Thickness | 1-6mm |
| Heater Size | 1.8" x 1.8" x 33.5"(45 x 45 x 850mm) |
| Heater packing size | 4.9'' x 4.9'' x 38"(125 x 125 x 965mm) |
| Box packing Size | 13.8'' x 7.9'' x 7.1''(350 x 200 x 180mm) |
| Gross Weight | 6kg |
| | |
| --- | --- |
| Model | FRAW-1200 |
| Maximum Bending Width | 1220mm |
| Power | 1000W |
| Power Supply | 220V |
| Heating Slot Width | 8mm |
| Heating Thickness | 1-6mm |
| Heater Size | 1.8'' x 1.8'' x 58.3''(45 x 45 x 1480mm) |
| Heater packing size | 4.9'' x 4.9'' x 61.3''(125 x 125 x 1556mm) |
| Box packing Size | 13.8'' x 7.9'' x 7.1''(350 x 200 x 180mm) |
| Gross Weight | 8kg |
| | |
| --- | --- |
| Model | FRAW-1800 |
| Maximum Bending Width | 1830 mm |
| Power | 1500W |
| Power Supply | 220V |
| Heating Slot Width | 8mm |
| Heating Thickness | 1-6mm |
| Heater Size | 1.8" x 1.8" x 79"(45 x 45 x 2006mm) |
| Heater packing size | 4.9'' x 4.9'' x 85.4 "(125 x 125 x 2170mm) |
| Box packing Size | 13.8'' x 7.9'' x 7.1''(350 x 200 x 180mm) |
| Gross Weight | 10.5kg |
| | |
| --- | --- |
| Model | FRAW-2400 |
| Maximum Bending Width | 2440mm |
| Power | 2100W |
| Power Supply | 220V |
| Heating Slot Width | 8mm |
| Heating Thickness | 1-6mm |
| Heater Size | 1.8'' x 1.8'' x 105.5''(45 x 45 x 2680mm) |
| Heater packing size | 4.9'' x 4.9'' x 10.9.6"(125 x 125 x 2785mm) |
| Box packing Size | 13.8'' x 7.9'' x 7.1''(350 x 200 x 180mm) |
| Gross Weight | 13.5kg |